Mike Smith Talks "Penalty Production"
May 18th, 2016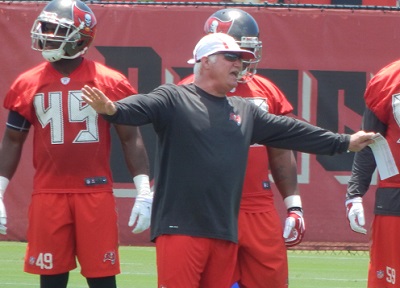 Joe's unsure if defensive coordinator Mike Smith brought a mop, a hazmat team and/or adult diapers with him when he arrived in Tampa.
All would have been appropriate after the Bucs cranked out 143 penalties last season, flirting with the NFL single-season record of 158.
In 2012, Smith's Falcons had the fewest penalties in NFL history, just 55, and they set the record for least penalty yards (415). That wasn't by chance. In 2010, the Falcons had just 58 penalties, one of the best marks in league history.
Last week, Joe reminded Smith of the Bucs' penalty woes and asked Smith to comment on whether he's already laid the foundation to clean up the Bucs' discipline mess, given that he's a penalty-prevention guru.
"Well, I think Coach Koetter has laid the ground work. There's no doubt about that," Smith said. "Penalties are probably the toughest thing to handle, especially the procedural penalties before the ball is snapped. Those are the things you want to eliminate. First-and-5 is a lot easier than 1st-and-10, or when you're 3rd-and-1 and you jump offside and give them an automatic first down without them even running a play. So, those are the things that we've got to make sure we clean up.

"We can't have the type of penalty production we had last year and it's a big emphasis point. Our coaches are coaching it on the film, on the practice field and I think it's going to be very important. The least penalized teams usually are the ones that win more games."
Joe will quibble with Smith on his last point. Plenty of great teams commit a lot of penalties, but those penalties still represent a senseless loss and a momentum shift most of the time.
Joe appreciates that Smith is positive and says Koetter has "laid the ground work." Joe believes, ultimately, it will come down to accountability.
Koetter is going to have to be all over position coaches whose guys are committing penalties. And some players, such as Mike Evans and Austin Seferian-Jenkins, might have to get benched for a series or more to realize idiotic penalties won't be tolerated.
There are a lot of bad habits to break.