Licht Will Want Rookie-Friendly Head Coach
January 13th, 2016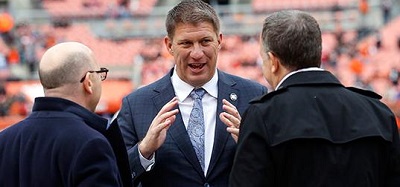 It wasn't long ago that Bucs general manager and new overlord of football operations Jason Licht raved publicly about Lovie Smith.
Last month, Licht grabbed hold of the Buccaneers Radio Network airwaves and talked about how the famed grand slam — rookies Donovan Smith, Ali Marpet, Kwon Alexander and America's Quarterback, Jameis Winston — doesn't happen without a head coach possessing the fortitude and conviction to start rookies at key positions.
That head coach was Lovie, and Licht praised Lovie's willingness and desire to play those rookies from Day 1.
It was Lovie who made the bold moves to bench expensive Bruce Carter for Alexander in early August, and to let Ali Marpet dive in head first. from Division III.
Heck, back at the NFL Owners Meetings in March, Lovie told Joe that left tackles typically succeed or fail as rookies and they really shouldn't need development time if they're any good. Not every coach thinks that way. For the Bucs, the approach paid off.
Joe thinks Licht was affected significantly by Lovie's approach to rookies, and Joe suspects Licht will want to know that his next head coach is willing to go all-in on draft picks.