Celebrating The Grand Slam
December 6th, 2015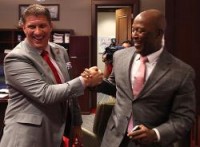 Tomorrow morning you'll find Joe at a local Denny's restaurant demanding they rename their famous Grand Slam breakfast "The Jason Licht."
It's only fair and just.
Three-fourths through this Buccaneers season, it's beyond obvious that Tampa Bay nailed its first four draft picks of 2015: America's Quarterback, Jameis Winston, Donovan Smith, Ali Marpet, the pride of Division III Hobart College, and the  lightning-fast playcaller and fierce hitter of the Buccaneers defense, Kwon Alexander.
That's a grand slam extraordinarily rare in NFL circles.
Team Glazer should buy Licht a bigger pool. Something has to be done.
In all seriousness, Licht and his scouting staff, and to a lesser extent Lovie Smith, should have the appreciation of Bucs fans tonight. An outside shot at a playoff run is fun, and Jameis is electric, but what's really exciting is having a front office that can pull off that kind of coup.
Great teams are made of deep drafts. You really have no hope if you're drafting like, say, Bruce Allen.
Thankfully, Licht and Lovie had the good sense to ignore pesky, invasive voices like Father Dungy's, and media bullies like Peter King. Both were trying to sell Lovie, Licht and the world that Tampa Bay would be idiots not to turn in their draft card for Marcus Mariota.
Licht and Lovie stood tall and made the call to bring the Stars and Stripes home to Tampa.
Donovan Smith had plenty of detractors, too. Some called him fat and lazy at Penn State, and Marpet was one of the more ballsy picks in NFL history, considering the woes of the Bucs' offensive line last season. Hell, Marpet didn't even play guard in college and was playing against guys who were weaklings compared to their Division I counterparts. Alexander is one hell of a player for a fourth-round pick.
Yes, the Bucs' 2015 draft is what will get Joe through tonight without the tender embrace of a woman.