The Glazer-Licht Talent Argument
January 13th, 2016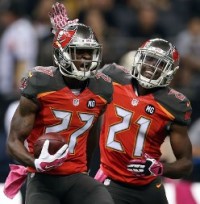 What if Johnthan Banks, Sterling Moore and Alterraun Verner are, in fact, a solid stable of young cornerbacks that was simply misused and deflated by Lovie Smith?
Joe wouldn't bet against that.
And it seems Jason Licht and Team Glazer might feel the same way. Former Bucs quarterback and current BSPN analyst Trent Dilfer made a very simple comment yesterday on WDAE-AM 620. He said Team Glazer and Licht obviously felt Lovie had more talent than his 6-10 record reflected.
In Dilfer's mind, that's the only core reason a team would fire a coach after two years.
Maybe it is that simple. Perhaps Team Glazer was advised that its defensive talent was not the kind of mess that should allow a 70 percent completion rate by opposing quarterbacks, and the worst third-down defense in a 20-year history of Bucs football.
As Licht said after Lovie was fired, three home wins in two years was enough patience. Under Lovie, the Bucs had a consistent knack for losing at home, which is inexcusable for any coach.
This whole line of simple thinking offers a lot of hope. The Bucs could be primed for rapid, significant improvement under the right head coach.