Players Are Tuning Out Lovie
December 16th, 2015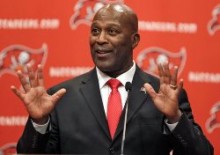 Evidence is mounting that too many Buccaneers are tuning out their head coach.
And the evidence comes from Lovie Smith himself.
Anyone who pays attention to Lovie regularly knows the head coach is obsessed with forcing takeaways, aka turnovers. Lovie preached it to his Bears in Chicago, and he sang the takeaway song on his first days as a Buccaneers overlord.
Lovie is all about takeaways. He expects three a game from his defense. He drills stripping the ball in training camp. Takeaways are a hallmark of his philosophy.
Therefore, it is very noteworthy that Lovie said Monday that his players are not absorbing his message of taking the ball away.
"The emphasis on how important it is hasn't gotten through yet," Lovie said, when asked about how the Bucs' defense hasn't had a turnover in three consecutive games.

"As we build our program, this is what we would like to do and this is how eventually I think you have to win, but we're not there yet. Our record says we're not there. We're making progress toward it, but we're not there. On days like [Sunday] – you see what happened – no turnovers offensively, correct? You have to take the ball away. It's as simple as that and we didn't. It would have helped an awful lot in only a seven-point game."
That's pretty darn telling for Lovie to acknowledge that his team, his defense, doesn't get the importance of forcing fumbles, and stripping the football and pouncing on it.
Joe is nearly speechless. Lovie is nearly two years into his Bucs tenure.
Speaking on the Buccaneers Radio Network on Monday, Lovie said there is a similar comprehension problem when it comes to the Bucs leading the NFL in penalties. They had eight more on Sunday.
Lovie said he thought his players would understand the impact of penalties by now because they had troubles with penalties early this season and coaches emphasized correction. But, Lovie said, players haven't figured it out.
So what will it take for the Bucs to be accountable when it comes to listening to the fundamental philosophies and orders from their head coach?
There's either a serious coaching problem and/or there's a handful of players that need an emphatic wake-up call or a new address.