Raw Disappointment From Lovie Smith
December 16th, 2015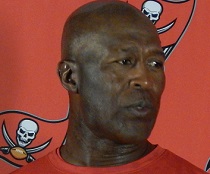 Your beloved Buccaneers are the very best in the NFL at not allowing pass plays of 40 yards or more. They've allowed only three bombs in 13 games.
Also, your Bucs have allowed just 37 passes of more than 20-plus yards. That's the third-best defensive mark in the league.
That's impressive stuff from a secondary not overflowing with talent.
It shows the Bucs are being very well schooled to keep everything in front of them, which is one reason quarterbacks are completing a whopping 68.7 percent against the Bucs.
Joe brings up this legitimate and telling data because if speaks to the raw emotion in Lovie's voice on the Buccaneers Radio Network following the brutal loss to the Saints.
The Bucs allowed three passes of 20-plus yards on Sunday, including a 41-yarder from Drew Brees to the immortal Willie Snead. That doesn't happen to the Bucs often. And Lovie can't tolerate it.
"I mean, [Drew Brees] is one of the all-time greats. The week before, he put up quite a few against [the Panthers]. And He's going to get his, and that's why he's a good quarterback in the league for so long," Lovie said. "But some of the things we did, though, even with all of that, though, we can't give up a 41-yard throw. I mean we have to make him earn it the hard way with some of the shorter [throws]. We gave up a 41. We gave up a 26. We gave up a 20. One thing we've done is kept the ball in front of us."
Joe can't emphasize enough how much disgust was in Lovie's voice when he said, "We can't give up a 41-yard throw." (Here's video of the connection to Snead.)
Again the Bucs have done a great job in this aspect of the game. Joe doesn't expect those breakdowns to continue.