Jameis Demands A "Mentality" Change
December 30th, 2015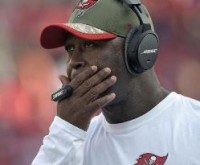 Loserville, aka Mr. McCown's neighborhood, is no place for America's Quarterback.
Jameis has now talked about that twice in the past three days.
It's important to realize that Jameis is neither used to all this losing nor accepting of it in any way.
Last night on the Buccaneers Radio Network, Jameis talked about he and fellow rookies gathered months ago to discuss making an immediate and lasting impact.
"We just got together. We made the decision that we wanted to change the mentality and change the perception of Tampa Bay, and we feel that we've started that right now," Jameis said.
The emphasis on "started" was Jameis' way of saying there's a long way to go.
In his postgame media chat after Sunday's beating by the Bears, Jameis also referenced how a losing mentality must be wiped from the face of the Tampa Bay area, and inside One Buc Palace.
"I mean, we've just got to win. I want this team to win. Any time somebody's talking about someone losing, they're happy that somebody's losing, I want to be on that side of the field – and I think we're capable of that," Jameis said. "[Carolina is] having a great year, so one loss – I guarantee you, they're not worried about that. They're going to come and try to take our heads off like they've been playing well all year, so we've got to come and compete. That's the mentality that we have to change here at Tampa Bay. We want people to be talking about, 'Oh, did you know Tampa Bay lost today?' and be happy that we lost. You know, that's a good thing, because that means that we're winning a lot of games. So, when we get to that point where people are happy that we're losing games, I think we're going to be set. We're going to be in the playoffs and we're going to be winning a lot of games."
Ahh, that losing mentality. Just how problematic is it? Until proven otherwise, Joe thinks guys like Gerald McCoy and Lavonte David, and too many other key players, simply don't know what winning looks and feels like on game day. And that effects the bottom line.
David strongly alluded to that Monday. It must change — with another good draft, a strong new free agent and Jameis driving the bus.