David Says Bucs Are Emotionally Unstable
December 29th, 2015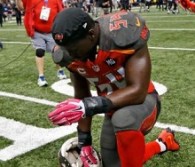 Perhaps all the Bucs' woes are simply in their heads?
A mentally tougher team likely would be 9-6 now instead of 6-9.
That was the logic peddled by Lavonte David last night on the Buccaneers Radio Network. It's hard to disagree with David. Just on Sunday, the Bucs appeared to fall apart when a penalty wiped out their first-half interception deep in Bears territory.
"We just gotta learn how to, can't be emotional rollercoaster, man," David said. "When we're up, we gotta stay up. When we're down, we gotta get right back up. You know, so when we [lead] teams by a number of points, you gotta be able to go full throttle. You can't let up. You can't act like you have the game won already. You know, this is the NFL, man. No team is out of a football team no matter how many points they're down. That happened to us plenty of times this year. So we have to learn from this."
The question posted to David was about how the Bucs can learn from lost leads or failed opportunities in recent games. On Sunday, Tampa Bay led in the first and third quarters and then fell apart.
David went on to say there are "mature guys in the locker room" that will be able to learn from these mistakes and teach others.
Joe is as dumbfounded as any other fan. Are Bucs players reflecting their head coach? Are they a mentally inferior bunch that includes unintelligent guys that repeat mistakes? Do they really think they have games in the bag and let up, as David suggests?
Joe hopes it's just a chemistry and maturity thing that needs to magically improve as the roster develops. Otherwise, it's going to be an ugly ride until there's sufficient new blood in the house, from coaches to players.