Carolina Improved With Loss
December 30th, 2015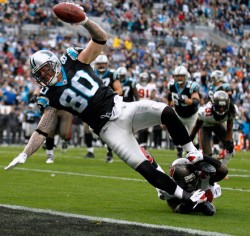 No only do the Bucs get a 14-1 Carolina team needing a victory Sunday to lock up the No. 1 overall seed in the NFC, they'll face a team on the road that's better than ever.
That was a take of former Jets personnel executive and linebackers coach Pat Kirwan, via the CBS Sports video below breaking down the Bucs-Panthers matchup.
Kirwan relays a story from Shannon Sharpe, who played for the 1998 Broncos. They lost in their 14th game it drove the team, when it got past the shock and anger, to get deeper into film study and ditch their surging egos.
Oh, my. Imagine if Kirwan is on the money, and the Panthers return Sunday re-focused and playing their best ball in front of a rabid home crowd.
Joe's not about to predict where the Panthers are mentally, but Joe will say the Bucs have no excuses on Sunday. They have to show up and play competitive football.