The Intimate Embrace
November 3rd, 2015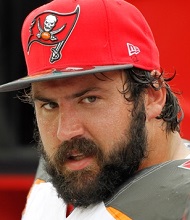 Perched in a comfortable press box seat at the Georgia Dome, Joe spent a lot of time Sunday watching the action on the Buccaneers' sidelines.
It was there Joe saw a class and telling moment from a forgotten man.
Jameis Winston, America's Quarterback, had just run a four-yard scramble in for a touchdown to give the Bucs a 19-3 lead. Jameis, as usual, stayed on the sidelines near where the extra point team will kick. Why? Because Jameis wants to be the first to congratulate them.
After dishing out props following the extra point, Jameis was approached from behind while still on the field. The man had no helmet — and no more attitude.
It was benched Bucs center Evan Smith. The veteran stepped in front of Jameis and gently held the rookie's head in his left hand. Smith spoke long enough to let you know it was more than just a one-liner of praise or encouragement. Smith finished and an embrace was next. That, too, was held just enough to imply a deep meaning.
Smith broke the hug and walked back to the bench.
There is no question in Joe's mind that Jameis is the pulse and leader of the Bucs. Vincent Jackson admitted it. Jason Licht said it. Yesterday, Lovie Smith told media that Jameis already is serving a captain role while not officially being a captain.
Hopefully, Gerald McCoy will come around soon.