Mankins = Draft Another O-Lineman
October 17th, 2015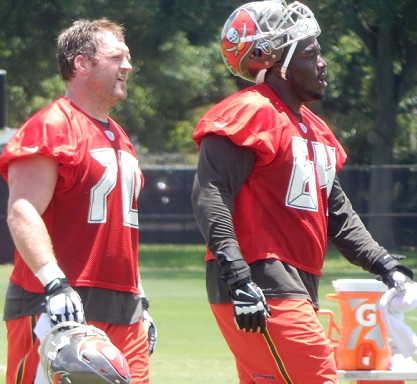 What better to do on a bye week Saturday than engage in deep thought about the Bucs' logical and best next moves this offseason?
Yeah, there's a ton of football to play, injuries to be had — and healed — and a won-loss record to consider, as well as the results in the division. But Joe won't let that stand in the way.
Logan Mankins is at the center of Joe's mind today. Mankins is being credited, in large part, for the rapid and quality development of the rookie second-round picks, Donovan Smith and Ali Marpet.
And then there's Kevin Pamphile. He was glued to Mankins all spring, and look at the results?
If the solid play of those three youngsters holds through this season, then why not draft another O-lineman with a top pick next spring? Bring back Mankins for the $7 million he's due and let him work his magic.
Joe's salivating right now at the thought of the Bucs adding a blue chip young center or right tackle.
It's hard to argue against loading up on offensive linemen when you have a 22-year-old (next year) quarterback.