Jameis Winston Should Be Himself
April 27th, 2015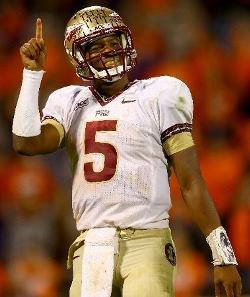 Joe got a hearty laugh when he heard half of what Bill Polian said recently on BSPN Radio (you could envision Polian wagging his finger), that Jameis Winston must be humble when he first comes to the Bucs, almost to the point of cowering, and ask veterans on offense about the proper protocol in the locker room.
To that Joe says, "bull-effing-s(p)it!"
Joe knows rookies are to be seen and not heard, but Winston is different. He's being brought in to change the culture of the Bucs, which is currently a godawful losing culture. The Bucs have lost 70 of their last 100 games. Why would the Bucs not want to rattle the locker room?
Winston is 26-1 in his last two seasons.
There are only four, maybe five people on the roster, that should ever give Winston crap for being himself. They are Vincent Jackson, Mike Evans, Gerald McCoy and Lavonte David, with perhaps Logan Mankins being the fifth, and even Mankins has lost some street cred.
If Winston is to make it with the Bucs, then Joe can pretty much promise that most of the offensive linemen on the roster won't be here in three years. Winston is the future. The current offensive line is just waiting to be replaced, sans Demar Dotson. That, friends, is a fact.
If the offensive line ever gave Winston crap for his personality, Winston ought to fire back, "What the hell have you guys ever won? The Glazers brought me in to win. If you don't want to jump on board, pretty sure we can find someone else who can't block. You guys were the worst in the NFL last year. Shut up and I am calling the plays here. You can follow or get out of the way." And if Mankins ever gave Winston hell, young Jameis could say, "At least I didn't blame my loss to Oregon on not having a barbecue grill. I want to be here. The Patriots sure didn't seem to miss you last year."
The Bucs are bringing Winston in for a reason, and that is to lead and be himself and change the culture and, more importantly, win. Think of Warren Sapp when he was drafted: By a combination of supreme talent, will and bulging personality, Sapp led the change in the Bucs' culture from the Yucs to Super Bowl champs. Winston is sort of the offensive version of Sapp.
The last thing Winston needs to do is change his personality and become part of the losing culture this franchise has sunk to.
Power to Jameis!