Jameis Stands Tall
October 25th, 2015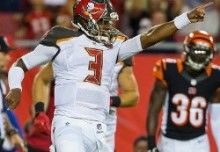 "Outstanding" was the adjective used for Jameis Winston, America's Quarterback, after another interception-free and effective performance today.
That's two in a row.
It was former Bucs tight end Anthony Becht heaping the love for Jameis and the Bucs offense on the Buccaneers Radio Network after the 31-30 loss to Washington.
As Becht said, the lack of picks for a rookie, and elite throws at times, were impressive — enough to soothe him a bit in the face of the Bucs' 16 penalties and soft defense.
The final line on Jameis was 21-for-29 for 297 yards and two touchdowns. But the key fact is he played well enough to win. (Yeah, that's the No. 1 stat for Joe).
And to think Lovie Smith passed on a chance to let Jameis win him the game in the fourth quarter.
Marcus who?