Lavonte David Says Penalty Broke Bucs Mentally
September 15th, 2015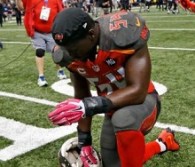 Sunday's brutal loss is eating Joe's core.
And the explanations for the debacle are making things a lot tougher.
Tampa Bay's $10-million-per-year linebacker Lavonte David hopped on the Buccaneers Radio Network last night on WDAE-AM 620 and offered a reason the Bucs' defense crumbled.
Per David, their balloon was deflated on their opening play, a personal foul on Major Wright for doing his best Dashon "Hawk" Goldson impression.
Wright drilled Bishop Sankey on a short incompletion out of the backfield. The strike point was too high.
It led to the Bucs falling apart.
"We played a little passive after that first play," David said. "I think after that penalty, kinda like killed our momentum. Because we wanted to come out and be physical, and that was the statement of the game there.

"Major coming out being physical. After that happened he got the flag, 'We were like, oh, man. We can't, you know, come out and do what we wanted to do.'

"We kind of let that get to us a little bit. We can't let that affect us, you know. Every time we're on the field, we gotta be the most dominating, be the most physical. Obviously, that wasn't the case."
Joe is in dire need of mental health care after hearing that last night.
So a defense led by Gerald McCoy and Lavonte David, and new third captain Clinton McDonald, is dejected and affected after the opening snap? One snap! One snap! You can't get more mentally weak than that.
How do they every expect to win a 60-minute football game filled with peaks and valleys?
Joe believes David's assessment is symptomatic of a much bigger problem — whatever led the Bucs to not show up for every home game last year.