"Slam" And "Seal"
September 15th, 2015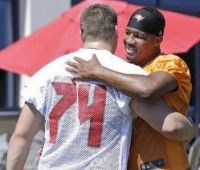 As Joe tries to transport from planet gloom and doom, Joe is aided by a film look at rookie right guard Ali Marpet.
Joe wrote previously that Marpet, especially for being a rookie out of Division III, came out of his first NFL game with solid grades.
On Buccaneers.com, coaches' film Xs and Os were laid out beautifully by former Bucs tight end Anthony Becht. Here's the link:
You can see Marpet "slam" a manbeast defensive tackle, actually move the guy, and then rub off to the second level and steamroll a linebacker.
Fun stuff.
Becht also breaks down the first touchdown by America's Quarterback, Jameis Winston. Watch the play through. You'll see center Evan Smith buy Jameis enough time by blocking two guys at once.