Jeremy Trueblood Offers Advice
August 17th, 2015
How unnerved Bucs fans are after watching a jailbreak of an offensive line send "America's Quarterback," Bucs signal-caller Jameis Winston, running for his life in the first preseason game, and seeing right tackle Demar Dotson go down.
Many fans are actually crying for unemployed Evan Mathis to play right tackle.
Joe touched upon this subject earlier today.
The rage has become so complete, Dotson's predecessor at right tackle, Jeremy Trueblood, emerged from hiding to throw his two cents on what the Bucs should do. Trueblood, once labeled a "dunderhead" by the Sarasota Herald-Tribune and dragged off in cuffs while with mommy for being drunk and belligerent, and once led the league in not knowing the snap count, apparently isn't much of a fan of rookie left tackle Donovan Smith.
Trueblood took to Twitter last night and gave free advice for Bucs AC/DC-loving general manager Jason Licht.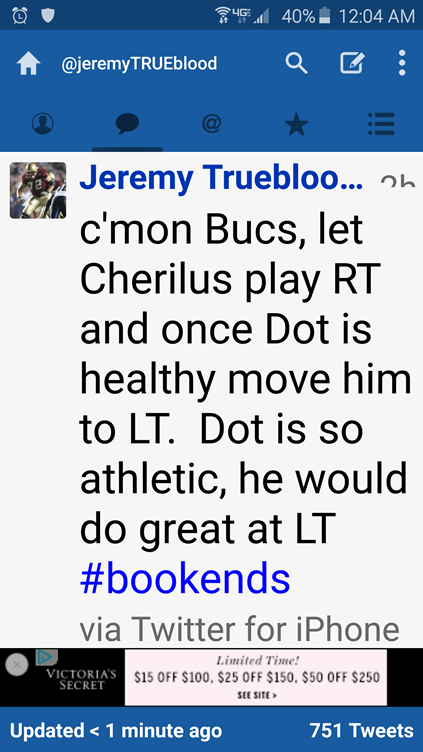 Well, the Bucs tried Dotson at left tackle last year and thought so much of the experiment they drafted a left tackle with their first pick in the second round.
Trueblood also referenced Gosder Cherilus, 31, Trueblood's former teammate at Boston College and a 2008 first-round pick of the Lions.
Joe thinks it is cool that Trueblood, per his Twitter feed, still lives in the area and is still so emotionally attached to the Bucs that it pains him to see how the offensive line has (not?) evolved.