TV Ratings Explode For Jameis Winston; Rival Lightning In Stanley Cup
August 17th, 2015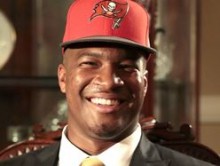 The debut of Jameis Winston, America's Quarterback, was quite an event across the Tampa Bay area Saturday, and the TV-ratings numbers match up to the hope-driven euphoria not seen around here in a decade.
Joe's got data.
Initial Nielsen overnight ratings saw the Bucs-Vikings preseason game on WFLA-TV, Ch. 8, peak at 16.1 with a 26 share. (The "share" is the percentage of TVs on that were tuned to the game.) The total broadcast rating was 12.8 (22 share).
For perspective, Game 1 of the Lightning in the Stanley Cup drew a 17.9 local rating in June, a record for a Lightning game. Game 2 drew the second-highest ever rating locally at 15.1.
Greg Schiano's 2013 Buccaneers averaged a 19.1 local rating per game. Last year, the Bucs averaged 17.2.
Preseason ratings typically fall far below regular-season games. So this bodes well for the Bucs' popularity, which will nosedive if the team can't find a way to win games.