Is The Cavalry Coming?
August 17th, 2015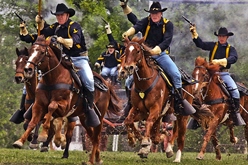 So it seems like the knee injury to Demar Dotson is enough that the Bucs are bringing in unemployed veteran tackle Gosder Cherilus to potentially fill the hole in Dotson's absence.
That was the word from Greg Auman of the Tampa Bay Times yesterday. Yeah, once upon a time Cherilus was a first-round pick. Yeah, once upon a time Cherilus was a solid if not savvy starter. There is always a reason a guy is unemployed when teams are in the throes of training camp. If it isn't about money, it's about diminished skills and maybe both.
Please note Cherilus was given a tryout last month by the Bill, and apparently didn't warm over Capt. Lou Albano enough to get a job.
Whether or not Cherilus can save the Bucs' offensive line remains to be seen.
And no, Joe is not pining for Evan Mathis, for whom so many Bucs fans hollered for on Twitter yesterday. First, Mathis is a guard. Last Joe checked, Dotson was a tackle.
Additionally, Joe would be shocked if Bucs AC/DC-loving general manager would bring in a high-priced guy like Mathis, who clearly must not be that good, or he would't be working NFL intersections holding a cup with an outstretched hand. Why bring in Mathis when he would stunt the growth of Ali Marpet? Doesn't add up.
So Joe isn't sure if Cherilus (or Mathis) is the answer. There aren't easy answers in August. But remember, Licht owns the very first waiver claim on anyone with three three years or less of vested NFL service. Joe suspects Licht will use that option quite a bit in the coming weeks, as teams whittle their rosters down to the final-53.
Joe isn't quite sure if the cavalry is coming to save the Bucs by pulling dudes off the street or not.