Garrett Gilkey At Center Of Jameis Winston Pain
August 15th, 2015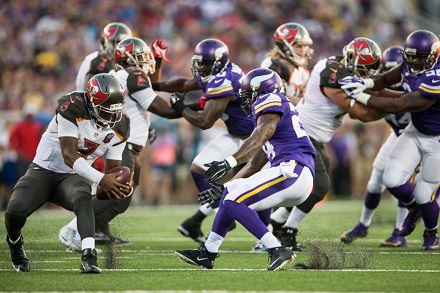 Joe can't sugarcoat this. Backup center Garrett Gilkey should not play center for the Buccaneers any longer.
It's dangerous. As Roberto Duran eloquently said, "No Más."
It's no surprise that when Gilkey stepped aside in the second quarter for third-stringer Jeremiah Warren tonight, Jameis Winston, America's Quarterback, settled into a rhythm against the Vikings. Before that, Jameis took two vicious hits directly related to bad snaps from Gilkey. (See the photo above).
With Warren under center, Jameis suddenly relaxed. Hell, Joe can't blame the guy.
In comes Warren, and Jameis passes complete to Luke Stocker. Then a pass complete to Bobby Rainey, followed by a laser of an 18-yard pass complete to Louis Murphy. After a run, Jameis hits Murphy again.
Think that was a coincidence? No chance.
Gilkey was the notorious virgin center mistake last year. And the guy just has too many snapping issues. Joe's seen it in practice this month.
Enough already. Experiment over. Let Gilkey stick to guard, or let him walk.