A Confident Ali Marpet Emerges
August 10th, 2015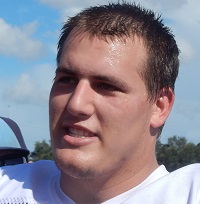 As a general manager with a shaky offensive line, it takes strong manhood to draft a Division III offensive lineman in the second round, and then try and convert the guy from left tackle to right guard with a goal of starting as a rookie.
But Bucs GM Jason Licht didn't hesitate in May, and now Marpet Madness is sweeping One Buc Palace and JoeBucsFan.com world headquarters.
Marpet, the pride of Hobart College, finally got first team work in training camp late last week and the results were impressive. He didn't get pushed around and even scored gloating time in the film room for treating Gerald McCoy like a ragdoll a couple of times.
Then, during an exclusive interview with Joe on WDAE-AM 620 on Saturday, Licht said the Marpet experience "gets my blood flowin' here pretty good" and Licht explained that Marpet's power and athleticism is making McCoy a better player. Those were some big works.
At practice yesterday, Marpet again looked solid and even showed his blooming confidence by doing a little jawing with Danny Lansanah.
Just the thought of the Bucs drafting a foundation-piece lineman has Joe in tears of joy.
Measuring 6-4, 307 pounds at the NFL Scouting Combine, the rather fit (for a lineman) Marpet thought he might have to add weight in the NFL. But that's not the case, so he told Joe yesterday.
"Right now weight hasn't been an issue. I mean if I was getting bowled and blown back because I was too small, then I would have to put on some weight," Marpet said. "As of now, it hasn't been an issue. It's awesome to know that I have the physical tools out here to be very successful. There's a lot of things I need to clean up, but I definitely have one or two tools that are going to, you know, let me have a very long career, hopefully."
When Joe asked Marpet about the reaction in the offensive line room while viewing him pushing around McCoy and hanging in strong against the Bucs first-team defense, Marpet's humble words didn't match the giant grin that appeared on his face.
"On my best block, there are always things to clean up. It's amazing how detailed everything is at this level. I'm learning so much," Marpet said.