Looking Good
August 10th, 2015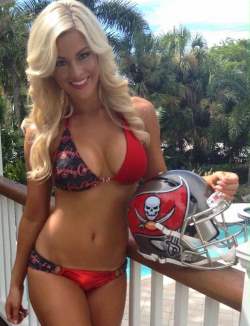 This is the season of the notorious question, "Who is looking good?"
Joe gets it all the time in August. All the time. Joe's knee-jerk reaction is to mention a Bucs cheerleader of the past. However, these questions are about Bucs players in training camp.
Joe is always hesitant to answer. First, it's early. All kinds of guys in the past have practiced really well and found themselves applying for a job at a car rental agency after a couple of preseason games.
Besides, training camp if not preseason can often mislead. Take the "Muscle Hamster," Doug Martin. The Bucs' running back had a productive half of a preseason game in Buffalo last year (two receptions for 27 yards, plus a touchdown run and 12 rushes for 38 yards.) In the regular season? Martin stunk up the joint.
One man who thinks Martin is rejuvenated is Woody Cummings of The Tampa Tribune. Appearing with local sports raconteur Dan Lucas on Sunday Sports Extra on WFLA-TV Channel 8 last night, Cummings believes Martin may just be better than he was as a rookie Pro Bowler.
"I think he might be the most impressive player in camp," Cummings said of Martin. "There have been a lot of guys who looked good. Rannell Hall is a guy at the bottom of the roster who has looked good. Logan Mankins looks like a different player. Jameis Winston looks good. Bruce Carter, [Gerald] McCoy of course. I'm not sure anybody looks better than Doug Martin.

"You can sense in him a real sense of urgency, a real desire to be the player he used to be and prove that he is still that guy. It is showing up on the field. The lack of agility that was missing a year ago, that burst that has been gone since 2013 when he had the shoulder injury, for whatever reason, that is back. He just looks like a better player now than he does in 2012."
And while Martin may be running with more quickness in training camp, Joe cannot forget the memory of Martin shining at Buffalo and then laying an egg.
It's still early and that's why Joe rarely answers "Who is looking good?" Don't want to mislead or offer too much false hope. Let's see how a couple of preseason games shake out.