Jason Licht: Ali Marpet "Is Making Gerald Better"
August 8th, 2015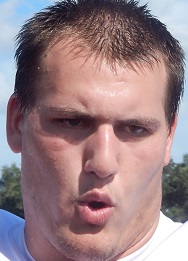 Joe's written quite a bit over the past two practices about rookie Division-III right guard Ali Marpet. The Buccaneers' second-round pick has looked capable — sometimes more than capable — running with the first team in full pads.
On WDAE-AM 620 this afternoon, Bucs general manager Jason Licht skyrocketed hopes even more when it comes to Marpet.
Serving as a host on WDAE this afternoon, Joe asked Licht what he's seeing on film from Marpet over the past two days.
Licht, if he hadn't already, moved all in on Marpet. No hesitation.
"It gets my blood flowin' here pretty good," Licht said. "I'm an ex-offensive lineman. So I like paying attention to the offensive line. He's got a really, really rare combination of athleticism and power. He plays much bigger than his actual weight. He plays like a big 315-pound guy when he's really in the low 300s. And he's picked it up quicker than, I mean we didn't think it would come along as quick as it did. He's exceeded. We knew he was a smart guy, but we thought it was going to be more gradual than it was.

"He has a lot of work to do yet. He's got a rare, natural instinct for the position. Going against Gerald we thought, 'Ok, this is going to make him better,' which it is. But he's also making Gerald better. Because Gerald has to go against a powerful, athletic guy like this every day. It's making Gerald better."
Wow! Those are some strong words from the GM. Bucs fans should be filled with hope right now. It's going to be damn fun to see Marpet square off against the Vikings in seven short days.