Vincent Jackson Has The Wrong Attitude
July 1st, 2015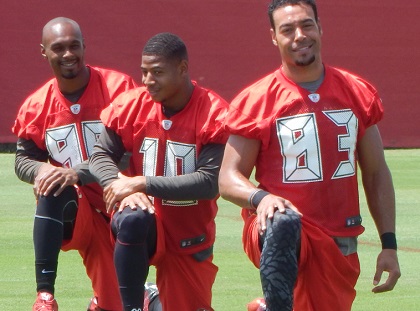 Some guys are obsessed with winning Super Bowls and are driven only by that prize.
Vincent Jackson? Well, he doesn't seem to be that guy.
Jackson chatted with WDAE-AM 620 host Rick Stroud recently and Stroud shared chunks of the conversation on the air.
Stroud explained 32-year-old Jackson wants to retire a Buccaneer and play at least a couple more seasons, and then Stroud said something that didn't sit well with Joe.
"[Jackson] said something else interesting, 'Look, if I could just be part of the reason that this team gets back to the playoffs and we turn the corner the way Tony Dungy helped them turn the corner, then that would be good for me. And that would mean something to me.'" Stroud shared.
Call Joe a lunatic, but Joe wants players aching for a Super Bowl and only satisfied by winning one, not just "turning the corner." It just feels like the wrong mindset.
C'mon, V-Jax, your own head coach wants guys thinking about the Super Bowl daily. That's why "California Dreamin" is the team slogan for 2015. That's why it struck Joe so violently when Jameis Winston backed off his Super Bowl plan last week. That big chatter, Joe believes, is healthy.
Gerald McCoy's mission this season is to stamp out any whiff of the culture of extreme losing he's experienced through the last four seasons. That's the only thing Joe wants to hear.
(You can hear all of Stroud's discussion of Jackson below.)