The Sad Demise Of Warren Sapp
July 1st, 2015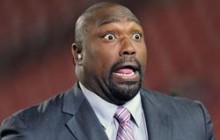 Joe knows some folks out there are ready to dance on Warren Sapp's grave. When Sapp played with the Bucs and lived in Tampa, he made more than a few enemies along the way.
Bucs fans wanted nothing but to bear hug the guy. He is the billboard of the turnaround from the Yucs to Super Bowl champions. Yet Sapp did his best to alienate fans like few athletes ever had. Sapp could have owned the Tampa Bay area with his bigger than life personality, but he chomped on most fans he encountered like an angry bear.
Recently, Sapp's life has been circling the drain. Going bankrupt. Numerous hassles with women and the law, the two worst coming this year. They not only cost him his $500k annual gig with NFL Network, but also very likely torched any bridge of a chance to get TV work again.
Veteran sports columnist Gary Shelton wrote about the Fall of Sapp on his website, GarySheltonSports, and had a few poignant words.
He is a complicated man. I have never met anyone as polarizing as Sapp, anyone who is determined to show you both his good side and his bad. In one minute, he could be funny, loud, friendly. Sitting in the middle of a circle, he would have you laughing at all the stories.

Then something dark would pass over his eyes, and in the next heartbeat, he could brush by you without a sound. There is a coldness there, a distance that most of us cannot penetrate. I used to say that I knew him better than most people, and still, I did not know him at all.

Cover a guy for years, and you get to know him. [He] and I have argued. We have agreed. We have discussed his place among the fans of Tampa Bay. I watched all of his big plays, and there were many of them, with the Bucs. And still, if he were to pass me on the street, I do not know if he would acknowledge me.
Again, Joe knows fans who tried to interact with Sapp and he all but chased them from loving their beloved Bucs. Who knows why Sapp did that? Still, it saddens Joe to see how a guy is slowly begin to slip away based on stupid crap, rank distasteful actions of his own doing.
And no, there should be no thought of removing his name from the Ring of Honor. Sapp earned that feat with his play on the field. As Tuna Parcells once said, "No one can take that away from you because you did it."