The Worst
July 1st, 2015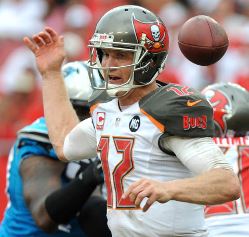 Some quarterbacks are unfazed by pressure from a defensive front.
Others freak out like a high school freshman. Bucs fans got a taste of that last year.
Joe couldn't believe the freakout displayed by turnover-prone Josh McClown. Joe is convinced any high school quarterback would have been benched for the stunts McClown pulled. Yet even after he shat all over the field of the Den of Depression, Bucs coach Lovie Smith stuck with the guy all the way to the bitter end — winning the Chase for Jameis.
How bad was it?
Sterling Xie of Football Outsiders documented the play of all NFL quarterbacks who faced pressure, coming up with another nonsensical acronym that means nothing to Joe. But in his calculator punching, Xie claims no quarterback melted down mentally quite like McClown.
Still, neither Arizona quarterback is likely to tumble as spectacularly as Josh McCown. Remember when I said Roethlisberger had the second-best pressure DVOA in our database? McCown, a former high school coach, beat out the two-time Super Bowl champ with a remarkable 8.0% pressure DVOA in 2013, the only positive value we have ever seen.

McCown's Chicago fairy tale turned into a Tampa nightmare, as he finished dead last (-155.6% DVOA) in 2014. Among the 26 quarterbacks who have recorded at least 200 plays each of the past two years, McCown's -163.6% DVOA drop is the biggest decline by nearly 100 percentage points! From 2013-14, the improvement-regression spectrum works out to an almost perfect bell curve until McCown's big ol' outlier at the end:
Even though Joe looked up the Gibberish acronym "DVOA," it still is unclear what the hell that means. Anyway, McClown stunk. Badly. And in a perverse way, we should celebrate McClown's dreadful play.
For it was McClown's dreadful play that set the table for the Bucs to draft "America's Quarterback," Bucs signal-caller Jameis Winston.