Tedford Takes It On The Chin
July 7th, 2015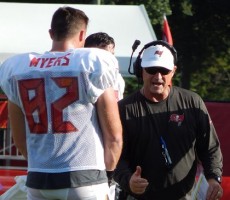 Jeff Tedford wanted to return and lead the Buccaneers offense after his heart trouble last year, but the figurative gates of One Buc Palace were slammed in his face.
eye-RAH! Kaufman of The Tampa Tribune likely would say it was all part of the Chase for Jameis. History might never know the truth.
Tedford severed ties with the Bucs on Dec. 5 and quickly snatched the head coaching job for the B.C. Lions of the CFL.
Joe confesses to keeping tabs on Tedford. Opening day for Tedford and his Lions was July 4. Tedford was beaten soundly, 27-16, despite his team being a whopping 14-point favorite against a club they hadn't lost to in 19 years.
Impatient types in Vancouver were left wondering what the mysterious Tedford offense will really look like. That's a question Bucs fans can't answer.