"Anything I Can Do To Be Urgent"
July 7th, 2015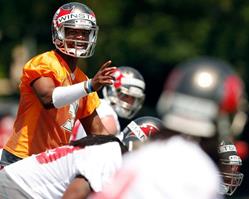 Jameis Winston isn't your typical rookie, and that's a damn good thing.
Like Lavonte David said, the Bucs locker room needed America's Quarterback.
Joe has scrutinized Jameis since launching the daily feature "Jameis Watch" back in mid-November. And Joe has not stopped studying young Jameis.
The video below is of Jameis on BSPN at the NFL Rookie Symposium in Ohio last month. It seems like a nothing interview with Jameis using various clichés, but Jameis' answer is quite unique when it comes to how he views his leadership role.
Jameis even breaks from his relaxed posture, showing how passionate and natural it is for him to lead men.
After referencing his deep love for football, Jameis said, "Now we're in the NFL, everyone has to love it the same, or you gotta try to get'em to love it the same." The question posed to him was whether it's hard for him to rally and lead players in a veteran locker room.
That's an astute take by a 21-year-old. In college, the large majority of players have no shot at playing in the NFL and many are devoted to their studies and future careers. In the NFL, unequal love of football among players is a recipe for a rough season.
"Anything I can do to be urgent, stay upbeat," Jameis added.
Most rookies are thinking of settling in and beating their learning curve. Jameis feels urgency when it comes to unifying the entire team.
Young Jameis and the Bucs rookies report to training camp in 20 short days.