More Tanking Allegations
June 29th, 2015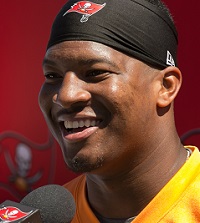 There are plenty of X-files in recent Buccaneers history.
Why did Michael Clayton get a fat new contract when fans knew he couldn't catch the football? Why was career loser Josh McCown handpicked to lead the Bucs back to the Super Bowl?
The list is endless.
Why did the Bucs think TV blackouts (2010) were a good business move with a winning, young football team on the field?
How could the Bucs let home-developed talent Michael Bennett walk after a spectacular 2012 season, one in which he was outstanding stopping the run, and rushing the passer inside and outside?
Another big X-file was keeping McCown on the field after naming Mike Glennon "quarterback of the future" in a lost season last year.
It was incomprehensible, and the absurdity was compounded by the Bucs rushing to cut McCown shortly after the Super Bowl.
But eye-RAH! Kaufman has ideas.
The famous Tampa Tribune scribe believes it's fair to think the Bucs playing McCown was foul play at work, so he told Jenna Laine of WHBO-AM 1040 last week.
"With Josh McCown turning the ball over left and right last season, late last season, Lovie Smith never went back to Mike Glennon. Now I guess you could argue at that point whether Jason Licht and Lovie Smith wanted to win another game," Kaufman said. "So that's an interesting point. Maybe they thought Glennon just might win a game or two and mess up that No. 1 pick. Because I think you'd agree with that they had their sites on Winston even before last season ended. I think that's true."
The real truth lives in the cone of silence at One Buc Palace.
Kaufman later noted that the alleged tanking for Jameis Winston is a big piece of evidence why there is no quarterback battle in Tampa. Too much has been invested (including losing?) in Jameis to allow him to compete with Glennon.