Five Team Officials Rank Marcus Mariota A Tier-2 Starter; Only One Picks Jameis Winston
July 22nd, 2015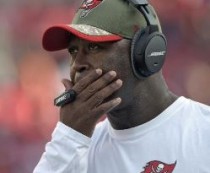 Yes, important NFL people still think the Buccaneers whiffed on their quarterback choice with the No. 1 overall pick in the 2015 draft.
Fools!
ESPN.com writer Mike Sando penned the results of his annual secret chats with — and polling of — dozens of NFL personnel executives and coaches. The topic was starting quarterbacks, and Jameis Winston, America's Quarterback, ranked No. 27 in the league, one slot behind Marcus Mariota and two ahead of Josh McCown.
Speaking on WDAE-AM 620 this morning, Sando said five of the 35 NFL types he polled ranked Mariota as a 2nd-tier NFL starter right now. That's a group that included the likes of Philip Rivers, Russell Wilson, Joe Flacco, Matt Ryan, Tony Romo and others. (Where they stoned?)
One of those polled put Jameis in that category. (Jason Licht?)
Sando explained that 20 of 35 gave Mariota and Jameis the same bottom grading, a default score because neither has taken an NFL snap. Joe would have graded that way, too.
Joe can't believe any sober mind would rank a 2015 rookie among the best QBs in the NFL in July.
It's going to be a beautiful thing when this season of lists is over and real football begins next week.