"The Way His Leg Fatigued In The Middle Of Games"
July 22nd, 2015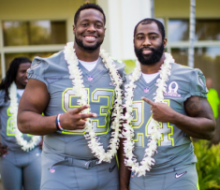 Per NJ.com excerpts of the new Sports Illustrated feature on Darrelle Revis, there are clear errors and misconceptions about Revis' Buccaneers career.
No need to dissect that, but one legitimately fresh nugget got Joe to sit up straight and put the cap on the vodka bottle.
It seems Revis' rehabilitated leg was on his mind during Bucs games.
In Tampa he'd concealed the doubt that consumed him—the way his leg fatigued in the middle of games, the interceptions he missed when his foot speed failed him. He compares it to playing a whole year hampered by Kryptonite.
The "leg fatigued" part is new to Joe. It's one thing to just being a step slow following a major injury, but it's quite different to feeling wiped out and having the injury inevitably thrust into your mindset during a game.
Regardless, Greg Schiano and former Bucs rockstar general manager Mark Dominik knew what they were getting when it came to Revis' health, and they were prepared for a long term investment. Revis, in fact, played excellent football for the Bucs, was a great mentor — and still is — for Johnthan Banks, and Revis showed last year that he is still a Hall of Famer at the top of his game.
Unfortunately, Lovie Smith and Jason Licht cut a 28-year-old Revis. They preferred to use his salary to pay Michael Johnson and Alterraun Verner.