Total Personnel Consensus At One Buc Palace
June 30th, 2014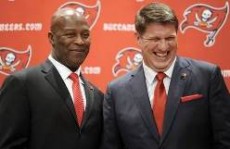 Lovie Smith is enjoying quite a honeymoon.
NFL pundits rave about his offseason moves. Bucs fans are fired up. And, per Bucs general manager Jason Licht, it seems every personnel man and coach at One Buc Palace are engaging in daily group hugs, high-fives and Amens.
Earlier this month, Licht explained.
Speaking to the dean of Tampa Bay sports radio, Steve Duemig of WDAE-AM 620, Licht was asked what his "best takeaway" was from the 2014 offseason
"Just the fact that players that we acquired in free agency and the draft, it was a coup that they were all players that the coaching side, the scouting side, Lovie, myself, we were all on the same page. And they were all players that we all wanted to target," Licht said. "And as you know, when everybody's on the same page, it decreases the likelihood that player will be a bust, you know at least increases the chance that they'll all make it."
It's hard to believe that every football man at One Buc Palace was fully on board with every offseason move, but Joe does believe Licht. If nothing else, this is a great sign that Lovie, Licht, the coaches and scouting staff are in unison. That certainly bodes well.
Joe never got that vibe from former rockstar general manager Mark Dominik and his unions with Greg Schiano and Raheem Morris.
Hell, right of the gate, the Raheem-Dominik era launched with controversy surrounding the cutting of Derrick Brooks in favor of his replacement, fragile safety Jermaine Phillips, who had never played linebacker before.
In later years, for example, Raheem made it clear he wanted leaders Cadillac Williams and Barrett Ruud back for the 2011 season, and Raheem was denied after posting a 10-6 record in 2010. Schiano and Dominik? Well, they got along great, but that doesn't mean they agreed completely on matters of personnel. They didn't, and they never claimed to.
The new vibe at One Buc sure feels great now. But feel-good stuff never won anything.
If the Bucs can rush the passer and average significantly more than the 5.2 points they averaged last year in the second half of games, then Joe will be happy. Josh McCown, Clinton McDonald and Michael Johnson should help.