Losing Dinging GMC's Rep?
July 13th, 2015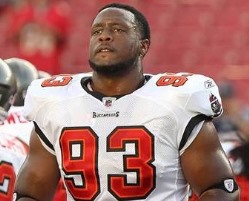 It is pretty obvious that when discussing the best defensive tackles in a 43-defense, the list is short. It is Ndamukong Suh, Geno Atkins and Gerald McCoy, not necessarily in that order.
Suh and Atkins have been in playoff games. GMC has not. And in discussing who is the best defensive tackle, Vaughn McClure seems to hint that losing may be wearing off GMC's glow in league circles.
Had the Falcons been asked this question two seasons ago, everybody in the organization would have agreed. In 2013, McCoy had three sacks and absolutely demolished the Falcons' offensive line during a 41-28 Tampa Bay win at Raymond James Stadium. McCoy wasn't his usual self against the Falcons last season and didn't even play in the first meeting between the teams because of a broken hand. Still, he went on to be named to his third consecutive Pro Bowl. If he's not the best at his position, he's right up there. I think it will be a battle of bragging rights in the state of Florida, with Ndamukong Suh playing for the Miami Dolphins. In five seasons, McCoy has 27 sacks and 118 solo tackles; Suh has 36 sacks and 180 solo tackles over that same time span.
Well, it is not GMC's fault there were personnel blunders all up and down the roster the past two years. A defensive tackle can only do so much.
GMC would be so much better (really) if he had someone halfway decent putting pressure on the edge. It is mind-blowing how many times this franchise has struck out in acquiring a competent defensive end. And the excellent one they had (Michael Bennett) was allowed to walk for no good reason. It's so bad, Joe doesn't expect one in the near future.