The Countdown: Worst 20 Buccaneers Personnel Moves Of The Past 10 Years
July 7th, 2015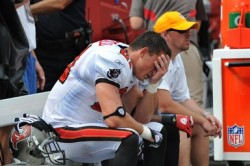 It's the countdown feature you've all been waiting for. Not really, but on the heels of last year's award-winning "20 Worst Buccaneers Of The Past 10 years" feature, Joe had to deliver.
A list like this is highly subjective and toxic. Fits of rage were common during production meetings at JoeBucsFan.com world headquarters. Scared interns soiled their pants. Full beer bottles were smashed, and a treasured Rachel Watson poster was accidently destroyed.
But order was restored and the countdown will begin tomorrow.
Bruce Allen, Jason Licht and former Bucs rockstar general manager Mark Dominik might not like what's coming, but it had to be done. This is what happens when your team is 30-70 in its last 100 games.
Presenting this list will be healing for Joe, a cleansing of sorts before diving into the hopeful new era when training camp begins in a few weeks, the era of America's Quarterback, Jameis Winston.