Lavonte David Says Jameis Winston Was Needed In The Locker Room
June 12th, 2015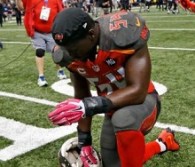 The Buccaneers' soft-spoken, intense leader, Lavonte David, has no problem calling it straight when it comes to how Tampa Bay had a hole at the leadership position.
Yeah, the Bucs had leaders before the 2015 NFL Draft, but what was their leadership really worth? The Bucs have led the league in implosions and self-destructive behavior the past two seasons.
David joined Bruce Murray and Phil Savage on SiriusXM NFL Radio recently and was asked about Jameis Winston, America's Quarterback.
First, David explained that Jameis is beloved and respected.
"He's controlling the huddle. You know, he's controlling himself like a vet already, man," David said of Jameis. "He already has that demeanor and everybody in the locker room loves him. You know, he's a great kid to be around, always has a lot of energy. You know, so far so good, man. Nothing but great things to say about him."
Then David was asked "how badly" the Bucs needed a "dynamic presence" after so much losing.
"We need it a lot," David said. "I think we have some veteran guys in the locker room, but there's always that one piece that's always missing. We feel like Jameis is that piece. He brings that extra mindset that we needed. So far he's proven us right."
Kudos to David for being candid and not playing nonsense games like rookie-sour center Evan (Dietrich) Smith. Every Bucs fan could see and feel in their guts that the Bucs were aching and desperate for a natural leader, and a gifted winner like Jameis.
It's also great to hear a Bucs star claim the locker room already is sold on the rookie quarterback.