"The Kid's Got A Motor"
June 11th, 2015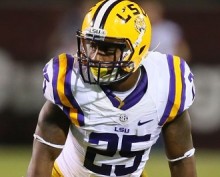 Chatting with starting Tampa Bay middle linebacker Bruce Carter today, Joe asked the four-year veteran what he thought of one of his teammates.
In previous weeks, Joe had heard such raves for rookie linebacker Kwon Alexander, it seemed a good time to ask Carter what he's seen since the Bucs made Alexander their 2015 fourth-round pick.
"Oh, the kids' got a motor," Carter said. "You know, he's running all day. He came in; he's very smart and intelligent as a player. And I don't think he's really had any setbacks since he came in. So he's been doing an awesome job."
It's interesting that Carter mentioned "setbacks," which could also be defined as glaring — and common — rookie screw-ups.
That's pretty impressive for a 20-year-old rookie coming into a defense many believe is complicated, and he's learning multiple positions.
What a treat it would be for the Bucs to have the luxury of Alexander developing as talented backup without having to toss him into the fire immediately. That's the way things seem be aligning with strongside linebacker Danny Lansanah tearing up underwear football sessions.