"Fun" And "Flying" Versus "Learning"
June 11th, 2015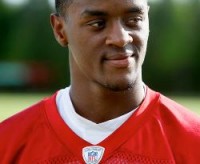 Yes, the Buccaneers defense was sad last year. Sorry. Joe can't sugarcoat.
So it's great to hear — and see — that the defense feels different now versus this time in 2014.
After practice today, cornerback Johnthan Banks summed it nicely during an interview with Buccaneers.com. Banks explained that last spring was about learning and figuring things out, whereas now the Bucs defense is balling.
"Everybody's out here flying around and having fun. I mean, I think we'll be a whole lot better this year," Banks said.
As Joe documented in today's award-winning practice notes, the defense was as dominant as it could be under the no-contact, underwear football rules of the NFL labor agreement.
The Bucs defense will get to hit strangers in 65 days in Minnesota.