"The Guys We Have Love Learning"
June 19th, 2015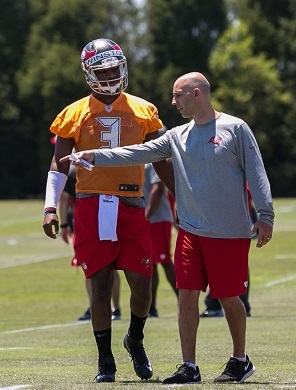 School sucks when you have an unqualified teacher, and especially when it's a substitute that rides out most of the year.
That was the scene for the Bucs offense in 2014. The "artist" left the building with heart problems, and in stepped his understudy, a guy who couldn't seem to finger paint.
Those circumstances don't excuse linemen failing to block, rookie play from a weepy 35-year-old quarterback, outlandish excuses, running eight consecutive times in the red zone and using a virgin center, among other gaffes, but it does explain what feels to Joe like a revival on the offensive side of the ball.
Dirk Koetter knows how to craft and lead as an offensive coordinator. The guy was successful in Jacksonville and Atlanta, and he won as a big time college head coach.
Enter America's Quarterback, Jameis Winston, with a reputation of being a football genius and an elite academic. It's no wonder that it seems the Bucs offense seems energized and unusually focused.
Even young Jameis sees how eager his teammates are. "The guys we have love learning," Jameis told Casey Phillips in this new Buccaneers.com video.
Of course they love learning. They spent much of last season banging their heads against the wall.