It's Film, Not Filet Mignon
June 19th, 2015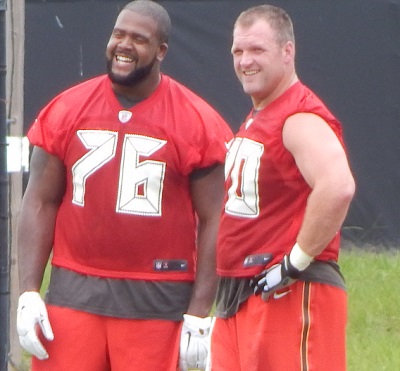 How could Joe chat with Bucs rookie left tackle Donovan Smith the other day and not ask whether barbecue-yearning Logan Mankins, the crowned leader of the offensive line, was coordinating off-hours bonding sessions.
Barbecue challenges landed in the blame game last year, and about five weeks ago, the Bucs' O-line turned to shooting guns as a method of uniting.
Smith said things have been quiet on the fun front since then. He said film, film and more film is where the group is bonding.
Smith credits Mankins for giving him a detailed approach to practice. Picking something to get better on every session is a Mankins order, and Smith said he's bought in. On Wednesday, "feet" were the focus for the No. 34 overall pick out of Penn State.
Joe will have more from Smith in the coming days.
As for the elusive barbecue, Joe suspects Mankins, given the importance he places on grilling, is waiting for just the right time — and just the right organic, tender, grass-fed steer to arrive from Colorado.