Lovie Smith Declares, "We Are Going To Be A Good Football Team"
June 17th, 2015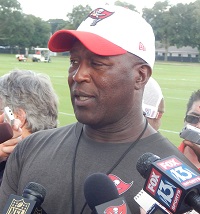 It took Joe a while to wrap his head around the big news of the day yesterday.
"We've seen marked improvement from so many of our players. We've are right on track. I think every time I've talked to you, I've talked about that. I feel like that's where were are at right now. We are going to be a good football team." — Lovie Smith, about 3:49 p.m., June 16, 2015.
Joe is going to dare to assume Lovie is talking about being a good football team this year.
So then how does Lovie define "good?"
Is "good" winning at least half your games? Does "going to be good" mean delivering a winning record in the second-half of the season? In that scenario, are the Bucs achieving goodness if they go 2-6 in the first half of the season and 5-3 in the second half?
Lovie told the world last December that the Bucs are "on the verge." And he also advised fans that "football doesn't really begin until November."
It'll all very confusing.
Joe simply considers a good team to be one that wins at least as much as it loses.
Regardless, Joe's going to hold Lovie accountable to his bold proclamation.