Lovie Smith: "True Football Fans Can See We're On The Verge"
December 15th, 2014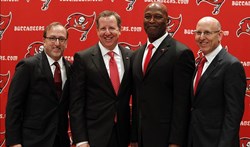 Lovie Smith might be the most confident 2-12 head coach in NFL history, based on his comments on the Buccaneers Radio Network this evening.
With his glass more than half full, Lovie acknowledged the team's struggles but said optimistic fans, "true Buc fans," make him feel good and everyone should acknowledge the positives from this season.
"Except for three games this year, we've been in every one. So I think true football fans can see that we are on the verge," Lovie said on WDAE-AM 620. "We have built a foundation. We're not there yet. But in time we will win football games around here, and win a lot of football games. Going through tough times like this, going through adversity like we're doing. It's making us stronger."
Joe's far too beaten up from all the brutal losing — and far too cynical — to be inspired by the head coach's comments. But Joe hopes sharing these uplifting quotes will help some Bucs fans sleep tonight.
Sweet dreams.