A Change In Spring Jelling
June 17th, 2015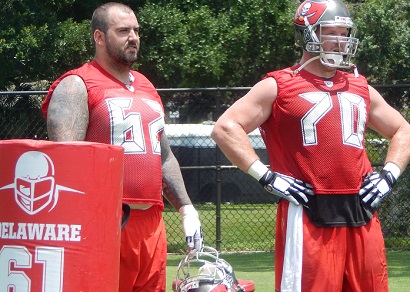 It's not just Bucs offensive linemen tooting their own horns when it comes to chatter about their new level of bonding and jelling.
The guy likely to do the bulk of running behind that line spoke out this week. Joe's referring to Doug Martin, who explained in private session with Casey Phillips of Buccaneers.com that he sees a change among the hogs.
"We're doing pretty good. There's more communication between the line. We're more jelled than we were last year," Martin said.
The fourth-year running back went on to express him optimism about the season, but Joe was especially dialed into the takes on O-line gelling and communication. First, it's interesting Martin said that before Demar Dotson returned to practice yesterday, and it's noteworthy he made the comparison to last season without being asked.
Perhaps there is real positive change in the works.