"Football Doesn't Really Begin Until November"
November 1st, 2014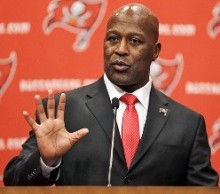 That quote from Lovie Smith this week brought a lot of chuckles — and tears — to media types and fans.
And considering it's Nov. 1, Joe thought it was fitting to mention it this afternoon.
The popular Ron and Ian show on WDAE-AM 620 was among the throng that skewered Lovie for those words, and Joe joined them yesterday to talk all things Bucs.
The full audio is below, including the opening where you can hear Lovie speak his famous quote.