Lovie Says "Each Position" Is Improved, Draws A Line In The Sand
June 22nd, 2015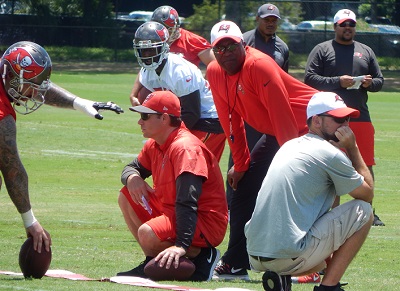 No excuses. None.
Dammit, your beloved Tampa Bay Buccaneers must show significant improvement this season or heads need to roll.
Last week, Lovie Smith served up a can of worms boldly declared the Bucs are "going to be a good football team," but Lovie didn't clarify that statement.
Today, Scott Smith (no relation) shared a video sit-down with Lovie on Buccaneers.com, in which he asked Lovie to go deeper into that proclamation. Lovie identified three concrete reasons the Bucs will be a good football team.
In order:
1) "Each position" is improved versus last year.
2) It's the second-year in his defense.
3) Watching how we've grown as an offense
Lovie went on to note how Dirk Koetter has been "installing a system that guys believe in." (Hmm, interesting choice of words.)
Lovie summarized that his claim the Bucs are going to be a good football team is based on his decades of NFL experience.
Joe considers that Lovie drawing a line in the sand. The head coach expects to win football games. Joe will assume that means at least as many as the Bucs lose.
Joe still thinks the Bucs look like a 6-10 team for 2015, but after Lovie's strong words, wild anger in the streets will ensue if Lovie can't at least hit the six-win mark.