Soured On The Commander
September 9th, 2013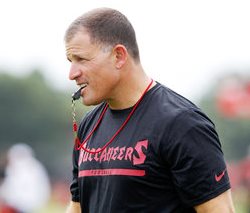 Joe has often referred to the day after the first Sunday slate of NFL games each season as "Overreaction Monday." Fans of winning teams believe their team will hoist the Vince Lombardi Trophy aloft in victory in February. Fans of losing teams are convinced their team will pick first in next spring's draft.
That's part of what makes the NFL so great. Fans are so passionate.
The Bucs played a trainwreck of a football game yesterday. It was awful, but given it's Week 1, Joe is trying to temper his disgust.
One very fed up person Pewter Report chieftain Scott Reynolds who, after watching the tripe the Bucs claimed was professional football, has seen enough to reach strong conclusions. He thinks he knows what ails the Bucs and it happens to be Bucs coach Greg Schiano and his staff.
I believed in the talent on the roster and the new talent that general manager Mark Dominik had acquired through free agency, such as free safety Dashon Goldson, through trades, like the one that acquired cornerback Darrelle Revis, and through the draft, where players like cornerback Johnthan Banks and defensive tackle Akeem Spence were found.

I believed that the bevy of talented players in Tampa Bay could flip the switch and turn off a dreadful, uninspiring preseason and turn on some Pro Bowl-caliber performances and beat up on a talent-void New York Jets team in Week 1. Some players, like wide receiver Vincent Jackson, who had seven catches for 154 yards in a stunning 18-17 loss at New York, did just that.

The thing is, I still believe in the Bucs players. But after watching an offense sputter, stall and struggle to generate just 17 points, witnessing a rookie quarterback do enough to prevail in his first NFL game against the revamped defense, and watching the Bucs record a whopping 13 penalties for 102 yards, I don't have a lot of faith in Schiano and his coaching staff.
Reynolds went on to list what a circus the game was for the Bucs, from the communication issues to Josh Freeman struggles (yet again), to backup quarterback Mike Glennon taking precious preseason snaps away from Freeman to beating Doug Martin into a wall, to the offensive line acting like windmills, to the general lack of preparation, pathetically so.
Joe surely cannot argue with any of Reynolds points. Joe has already touched upon this but it bears repeating. It is galling for a disciplinarian like Schiano to have a team play so grossly undisciplined and unprepared yesterday.
The Bucs organization likes to brag that Schiano's assistant coaches are good teachers. What exactly were they teaching this summer? It's not like this collage of coaches needs to add to its ranks. How many assistants do the Bucs have now, 74?
Joe doesn't think there is any doubt that starters should have played more in preseason. Maybe Schiano needs to re-evaluate just how his coaches are teaching. Whatever they did the past six weeks or so feels like a giant waste.
At least on this Overreaction Monday.