Jameis Fears GMC
June 3rd, 2015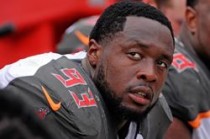 Joe doesn't pretend to know "America's Quarterback," Bucs signal-caller Jameis Winston.
Oh, sure, Joe has been around him a handful of times, but that's hardly enough to know a guy.
But Joe knows plenty about Gerald McCoy after all these years. And McCoy is well aware of what Joe is all about.
GMC knows when it is time to play and time to work. When the work is done, time to enjoy life, which is why GMC is so amiable. Joe thought it was funny last week when GMC said he will soon learn just how good Jameis is when he gets to wear pads and "chase him."
Apparently, Jameis knows GMC. Well, at least knows him enough to dread the day GMC chases him. In a non-opening-a-door-for-a-cutie video shot over the weekend at the NFLPA rookie confab, Jameis was asked who he doesn't want to get sacked by.
The answer? GMC.
"He's my teammate," Jameis beamed. "I don't want to get sacked by him because he is so nice, that if he sacked me, I probably would get mad and say, 'You are too nice for this. Why are you sacking me?'"
Jameis is only going through his third week of workouts on the field with the Bucs, but he already knows that GMC off the field is a far, far, far different man between the white lines.
Joe would be scared, too. To watch the whole video, behold below, which includes a special message for Bucs fans from Jameis.