Mariota Belted With Jameis Questions And Doesn't Seem Happy About It
June 3rd, 2015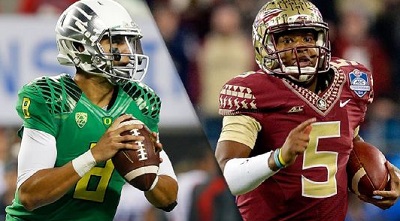 Call Joe a football lunatic, but Joe is dialed in to all things Tennessee Titans, the Buccaneers' opening day opponent.
Like it or not, that game in Tampa is absolutely a must-win.
Losing to Marcus Mariota and the lowly Titans would be a giant kick in the footballs to the entire Bucs fan base.
It just can't happen. That would cause one of the worst postgame weeks from St. Pete Beach to Lakeland since the choke job to JaMarcus Russell and the Raiders to complete the December collapse of 2008.
Joe's been keeping tabs on Mariota's progress, and in his latest news conference (and it was brief) Mariota was pelted with three questions about Jameis Winston, America's Quarterback. Mariota appeared annoyed and was curt after the first question.
In short, it was clear that Mariota has no interest in any kind of rivalry or personal, draft-class connection with Jameis — like Gerald McCoy does with Ndamukong Suh, for example.
Man, it's only June 3, but Joe is aching for Lavonte David to drill Mariota when he takes off running and misjudges the speed of a supreme NFL linebacker.