Jameis Winston Reacts To Gentlemangate
June 2nd, 2015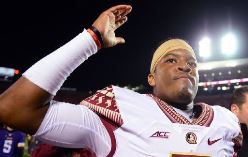 Our TMZ world is a fun place, but not if you're America's Quarterback trying to enjoy the fruits of the night and treat a lady right.
Cameras recorded Jameis Winston at a Los Angles nightclub last week escorting a woman to her car (but not touching her), holding the car door open and saying goodbye. It just so happened to be a sultry reality show star, Draya Michell.
Some gossip clowns in the national media ripped Winston because, just a step from the vehicle, the woman told Winston she didn't want him to hold the door open.
Jameis reacted on his Instagram account this afternoon.
"A lot of people have made something out of nothing as always. I was only being the gentleman I was raised to be. The only thing that could have been better was for me to avoid the scene and leave. I have a wonderful girlfriend and I am not trying to find anyone and no one is trying to find me. This went way to far."
First, let Joe remind readers Jameis was in L.A. at an NFL event for rookies and was out at night with other NFL rookies.
That aside, Joe is glad Jameis is learning these lessons now. The kid simply will not have any peace in his life unless he's terrible on the field and fans stop caring. Heaven help us if that happens.
Remember, Mike Evans was involved in a brawl-like scene caught on video just before last year's NFL Draft. He was throwing haymakers.
Stuff happens.
It's a lesson Jameis knows too well.