"It's Just, I Should Be Able To Win"
June 15th, 2015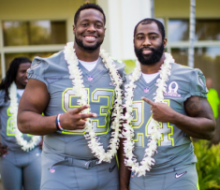 Gerald McCoy rarely fumbles for words. The man can talk.
But McCoy bumbled and stumbled this weekend while trying to tell the world his body is not that of a loser.
McCoy, as Joe shared this weekend, talked to an Oklahoma TV station all about the behind-the-scenes actions of Jameis Winston, as well as what McCoy is focused on this offseason.
When chatting about the physical aspect of his game, McCoy hit a mental roadblock.
"The physical part of it, you know, I'm to the point to where, you know, it's just, I should be able to win, you know," McCoy said.
It's important to note that McCoy is in his prime. He's in his Year 6 with a 27-year-old body. This is it. Right now.
Warren Sapp was 27 when he first landed on the All-Pro team, and the 1999 Bucs defense that year was sickeningly dominant. Sapp's sixth season (2000) was his best with 16.5 sacks. He never came anywhere near that total again.
McCoy knows his time is now. Lovie Smith knows he can't waste McCoy, which is why Lovie repeatedly said last year that it shouldn't be so tough to succeed in edge rushing with McCoy causing havoc inside.
Joe sees the Bucs now as a six-win team for 2015. But Joe's glad an impatient guy like McCoy (and Jameis Winston) is on the roster. That's the Bucs only chance to snap their horrible funk. Players have to stop accepting losing and second-rate effort.