McCoy Says He Needs More Football Knowledge
June 14th, 2015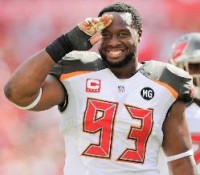 Remember when Gerald McCoy told the world he didn't understand tackling until Greg Schiano taught him in his third NFL season?
Well, McCoy said yesterday that a higher level of football knowledge is what's missing from his game.
McCoy told KFOR-TV in Oklahoma "I write down" football shortcomings after each season and focus on them in the offseason. This year's accounting, McCoy said, revealed he's got the physical parts of the game down but has to improve on "knowing more about football."
"How I can set myself up better is the mental aspect, knowing what's coming, knowing how I can set guys up, knowing this, knowing what's behind me," McCoy said. "Just really growing mentally and knowing the game of football."
Joe loves McCoy's attitude. It reminded Joe of when former Bucs pass rush coach Bryan Cox, the ex-linebacker great, told Joe that McCoy will only be great when he raises the game of those around him.
It's unclear what McCoy is doing to improve his football IQ. Perhaps now that Warren Sapp is unemployed after a hooker fiasco, McCoy could hire Sapp to break down film with him and teach him how to take over games.