"Troubling" Words For O-Line
June 15th, 2015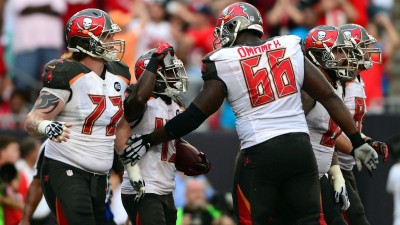 Joe swears a day doesn't go by that someone doesn't Twitter him asking about the offensive line. Two weeks ago, Dan Connelly was the flavor of the week. Last week, it was Evan Mathis.
Bucs fans (partially because if they recognize a name on another roster, he must be better) are not content in any way with the current makeup of the offensive line. Joe agrees.
But the worst offensive line in the NFL? Joe can't go that far, but John Owning of FootballInsiders.com believes so and is quite harsh on the front line of the Bucs.
32. Tampa Bay Buccaneers

Best Player: Logan Mankins

Player Who Needs To Improve: Evan Dietrich-Smith

The Tampa Bay Buccaneers have been plagued by awful offensive line play for the last few years. Their running backs haven't had any throws to run through and their quarterbacks haven't had any time to throw. With the Buccaneers' recent investment in Jameis Winston that should be extremely worrisome.

Now, the Buccaneers have attempted to strengthen the offensive line through the draft with the selections of the athletic Donovon Smith and Ali Marpet. Even though neither has ever stepped onto an NFL field yet, both should be an upgrade over their predecessors. The player who will have to set the example for Marpet and Smith is Logan Mankins, who was the only solid player on a terrible offensive line next year.

Overall, the Buccaneers offensive line is devoid of experience and talent, which is a troubling mix. Hopefully for Winston's sake, they can figure it out quickly.
Just like last year, there is a lot of hope for this offensive line. Hope that Donovan Smith can play capably as a rookie; hope that Logan Mankins finds his Holy Grail of a barbecue grill and is reborn; hope that Evan (nee: Dietrich) Smith doesn't roll the ball to Mike Glennon "America's Quarterback" Jameis Winston; hope that Ali Marpet makes the transition from high school Division-III football; hope that Demar Dotson is comfortable with his contract.
Joe wholeheartedly agrees that Evan Smith needs to buckle up. Just food for thought, Marpet has taken some snaps at center. Also, per Rotoworld.com, Smith in 2017 is scheduled to make $3.5 million with a $1 million roster bonus.
If you think the Bucs — or any team — is going to pay $4.5 million for the level of play (?) Smith displayed last year, Joe has swampland in Arizona for sale.